Click on a photograph to enlarge it. More photographs here
Travelogue 3, in which we continure with our tails of adventures in Torres del Paine.
continued...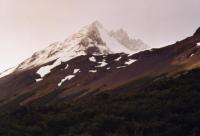 the first two hours we wade through ankledeep mud - the whole path seems to be transformed into one big bog. finally we arrive at the beginning of the morraine which will take us up. there is a river crossing and then it is all uphill rocky slopes and scree. the winds are stronger than what we had so far. we fight our way up, starting to be tossed around by the wind. i fall a couple of times, the wind just knocks me over. we are at gale force now. by the time we reach the last bit before the actual crossing of the pass we are in the middle of a blizzard. there is only snow, icy winds around - i start feeling a bit panicky and have great difficulties setting one foot in front of the other. we shelter behind a rock to have some chocolate for the extra energy. sitting there for a millisecond i think i can't do it and loose my belief - that is when it gets dangerous - one has to believe to be able to do it. my hands are numb and i am off center. i try to walk on, the wind throws me down and i am in despair. jalal tells me to go on and walk into this windtunnel. i am hesitant - suddenly see a french couple who set out after us walking up and into the col- that gives me the kick if they can do it, i can do it and off i storm into the raging storm. the winds of more than 100 km/h tear the rain ponchos of the french guys apart, their backcovers are flying around.
i don't know how but after half an hour we cross and drop down into the shelter of a lenga forest and get our breath back. this was an intense experience and also an eye opener for me how important it is to believe in myself and not to give into the minds panic which will bring you into even greater danger.
exhausted we have to face now an extremly steep and slippery descent through wet woods. i can't count how often i fall down the muddy slope, only to be stopped by some tree roots or bushes. after an hour i stand crying like a little girl, wishing to be anywhere else but here - but what to do but move on and somehow relax into falling - well i guess that is living in the moment at its finest:)
after another hour we reach the campsite which is basic without any facilities in the middle of the woods. there is a basic shelter and some guys got a fire going to dry out. there are five other parties apart from us who made it over the pass that day. none of us had any of the great views promised, but we all survived (including our british friends). so we are sitting by the fire in the little shelter and have a warm meal. we sink into our sleeping bags and even though we pitched on a horrible slope which makes us slide down and wake up endless times, we have a good nights sleep.
the next morning brings finer weather and we are on our way to lago grey. it will be only a short days walk which we welcome as the last day is still in our bones. on the path we get the first views of glacier grey - it is amazing. the ice seems to reach up to the end of the horizon - wherever i look i only see pale blue ice. at the end or is it the beginning it drops into lago grey. we sit on a high lookout and listen to the song of the moving ice and once in a while the release of a huge block into the lake. these pieces sail silently over the lake, bizzare forms of ice sculptures - again true art of nature, inspiring, majestic and perfect.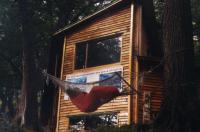 the refugio lago grey is a pleasant campsite on the shore of lago grey. we opt for another meal out with the english we met yet again. i decide to take a long hot shower and after a hot meal (tunabake) i sit in the sun on the rocks by the lake, watching the icebergs drifting by - ain't life brilliant!
on day six of the circuit walk from refugio grey via lago pehoe to campamento italiano which is the second side trip we include in the trail. it brings us to a wonderful valley called valley frances. on the site we pitch the tent and meet up with nadja and thomas again.
next morning we walk all the way up the valley - oh how easy and light it feels without a pack - to reach yet another impressive glaciar named glacier frances, whose hanging icefalls cling to the sheer blackrock of cerro paine grande and we sit and watch huge chunks of ice dislodging and noisily crashing down the valley. further up near the tree line we get superb views of the horns of cuernos del paine. the weather is fantastic after a cloudy start the sky is still blue, clear and not a cloud to see. we bask in the sun and enjoy the awesome display of nature until it is time to backtrack down the rio frances to our camp.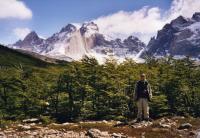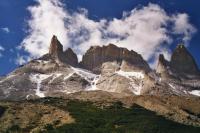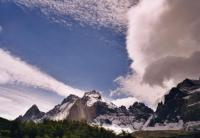 on our last day of the trek we take the route along lago nordenskoeld to get back to the campsite where we started from. it is raining from morning on and after two hours we pass refugio los guernos and stop for a hot chocolate and some warmth. after continuing for another hour the sky suddenly opens and we get the full blast of sun. like lizards we spread us and our gear out on a cliff and take a break and a nap. when i open my eyes i see a condor circling - so time to get up and move on:)
we arrive at the campsite in triumphant spirits when we encounter a sudden storm with galeforce winds and rain (you can't keep up with the extreme weather changes in patagonia - i can tell that much). nevertheless we manage to pitch the tent and run over to the refugio for a beer and a huge sandwich. the last night shows us a storm deluxe - the tent comes down to our faces and we are up and about to refix the herings and security lines. apart from the wind the ground is covered with nasty caterpillars who produce quite a stinging sensation once they get a chance to get in touch. the winds don't die down so the next morning it takes two hours to break camp as we have to take piece by piece not having anything lying around. over at the refugio we sit and wait for the bus back to puerto natales after now 10 days of adventures.
early that evening we arrive at our hosteleria and get the same room, have a shower and go out for a huge salmon diner. later our british friends arrive at the restaurant and we have one too many pisco sours together.
now it is pampering time again. i bought a bottle of nivea body lotion, and cream for my fingers where the skin is badly cracked. we eat lots of food and sleep. on monday morning we start a 23 hours bus journey which will take us up to coyhaique in central patagonia for i am sure a bit more of adventure.
thanks for accompanying me on this latest tale of ours, i hope you enjoyed the read. as usual there is so much more to see and tell and so little time to do so. this part of the world is very demanding and incredibly rewarding at the same time.
we sent you all lots of love and hope you are well.
ajara and jalal